More Things to Ponder While Cooped Up!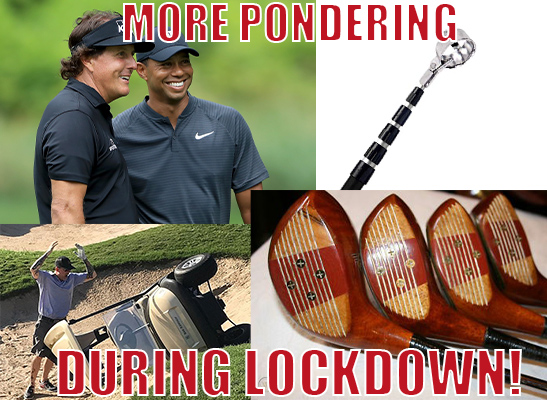 Here are some more things to ponder while we are on 'golf shutdown'.
What would you serve at the Masters Champions dinner?
If you saw your buddy cheat during a $10.00 Nassau, would you call him out?
Would you like to play a round of golf using persimmon woods, 40 year-old irons and a balata golf ball?
How much lower, if at all, would your 18-hole score be if you played a round from the red (or forward) tees?
If you could choose just one of the following, which one would it be…a sideline pass for the Super Bowl or an all access pass for the entire week of The Masters?
What rule in golf do you think needs to be 100% eliminated?
If you could only have one the rest of your life…What hole in golf would you like to have a hole-in-one on?
Do you think any PGA Tour pro has a filled-up flask hidden in their bag?
Should the OB rule be the same as the hazard rule (point of entry drop and only one penalty stroke)?
What's the issue with having an all men's golf club?
How many more majors would Phil Mickelson have if Tiger Woods never played golf?
Is 18 holes too many?
Have you used more trees or more bathrooms on the golf course?
Should the U.S. Open occasionally move the tournament to the fall in order to use courses in Florida, Texas or Arizona?
Have you ever flipped or crashed a golf cart?
What sport other than golf could you a PGA Tour pro play professionally?
Do you own one of those extendable and retractable water ball retrievers?