CADDIES ARE HAZARDS TOO!!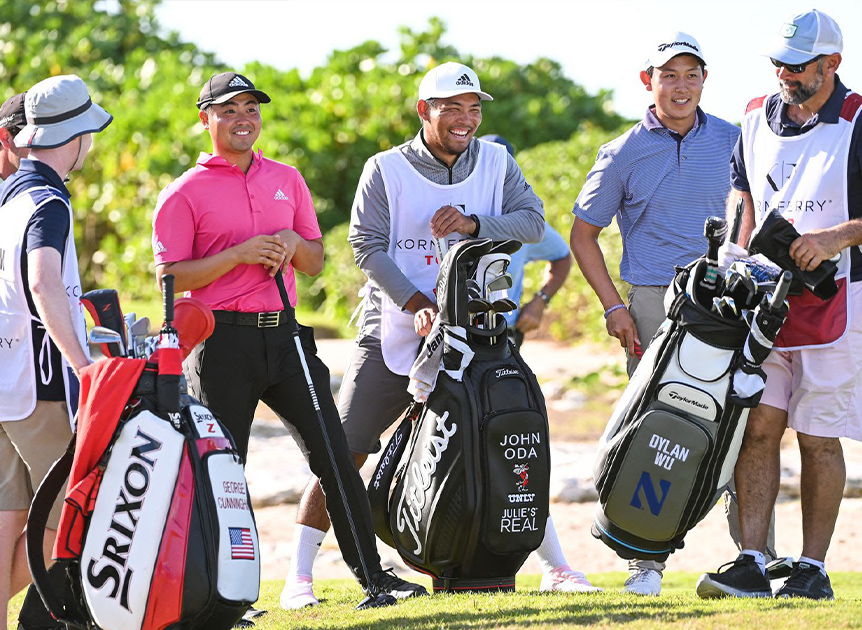 In his first blog post for the GD website, The Blade starts with a little wise insight into life with a caddie!
Despite the beautiful vistas that golf courses provide for the vast majority of golfers, it is unfortunately the small areas we call hazards that can quickly turn one's attention away from crashing waves, majestic trees, flowers in full bloom and rambling rivers.
Sand traps across the globe have earned such monikers as Hell Bunker and the Devil's Asshole. At Merion Golf Club near Philadelphia, a narrow meandering waterway has been called the Baffling Brook. Coeur d'Alene Resort and TPC Sawgrass present greens surrounded on all sides by water. Navigating around these infamous trouble spots can frustrate golfers and ruin rounds. Not one of these hazardous havens, however, can prepare a golfer for the one that starts with the introduction, "Sir, please meet your caddie for the day."
Every round of golf one plays has no clear picture of where the ball will land, roll or bounce. Even in mid flight, the shot may look good, but until it safely comes to a stop, nothing in golf is a given. The same rings true when you hire a caddie. Many of them look harmless upon first sight, just like a bunker or stream that is twenty yards short of your target. He may introduce himself as Crab, One Eye or Three Baws, but you convince yourself it means nothing. His initial tidbit of information can be short and sweet, with the sweet having a short shelf life. He may barely say a word to you for three holes, then start gushing like Old Faithful geyser when your shots go astray. His life story could be verbally presented in colorful detail even when you're trying to sink a rare birdie opportunity. Your tab at the halfway house will be twice as much as it should be as you notice him walking out the door while you are walking in; chili dripping off his lips and chin!
Golf is played to test our physical and mental skills. Caddies can certainly help with that, but they can also hinder it. One simple tip like telling you to "lighten your grip," can take four strokes off your round. But one simple comment like "lighten up," after questioning a yardage can just as quickly add four strokes to your score! Your caddie may care about your round, or not care. Or he just may pretend to care! He may bet his fellow caddies $50.00 on your ability to beat the rest of the foursome, or he could secure some easy cash by giving you terrible reads on the insistance of that same foursome! But golf isn't, and shouldn't be, always about your score. It should be about the experience and how you handle adversity. How well can you adjust to slick greens? Can you check your ego and layup and not always hit the heroic shot? Will you play along or pout when your buddies rib you, disturb you, or try and get in your head? Golf presents an array of hazards as you make your way around 18 holes. To think that you'll never get plugged in a bunker, or trickle into a pond, or snap one into a thicket of trees, you are only kidding yourself. So…believe it when the name nickname "One Eye" has a meaning. Accept that after you've hit your 100th shot of the day and you are only on the 15th hole, your caddie probably stopped caring around shot #63. Be thankful that there's only one halfway house that sells food and drink! Embrace that your bag man has a financial interest in your game…whether he's with you or with your competitors! Like bunkers, creeks, trees and the ocean…hazards are not going away. So hire a caddie and know that caddies are hazards, too!!